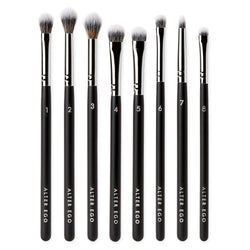 Alter Ego
8-Piece Eye Brush Collection
The Alter Ego 8-Piece Eye Brush Collection is curated to include all the essential brushes for recreating your favorite makeup looks. Each brush is designed with a specific purpose in mind - from flawless blending to seamless smudging. Our brushes are synthetic, cruelty free and vegan.
Collection Includes:
Blending Fluff

Blending Crease

Large Blender

Oval Shadow

Small Oval Shadow

Small Shadow

Pencil

Smudger
8-Piece Eye Brush Collection
This is one of my favorite eyeshadow brush sets! Had to grab another!
Brushes
They are very soft and perform well.
Great quality!
These brushes are amazing quality, and I'm still perplexed how they are $28!
The brushes feel soft and smooth, perfect for blending multiple colors. The handles are also easy to grip, brushes are easy to clean, and does not harden after cleaning. The packaging comes in a small tube, which makes it very easy to store and travel with.
So happy with this purchase, this will be my new go to brushes!
Amazing price and GREAT for beginners!
I really like these brushes, especially for the price and the fact that I am a novice make-up person. I am super new to trying new techniques with my eyeshadows, and wanted more than just the one brush I had that came with an old eye shadow palette I purchased. But I also didn't want to spend an arm and a leg on a brush set. When I went to other make-up stores, I saw a lot of "value sets" but there weren't as many brushes and they were like $40! I received so many different brush types, and I was able to play around with them to see what works for me versus what doesn't. I highly recommend these for beginners to makeup. They're super soft, and they don't feel like they're going to break anytime soon.